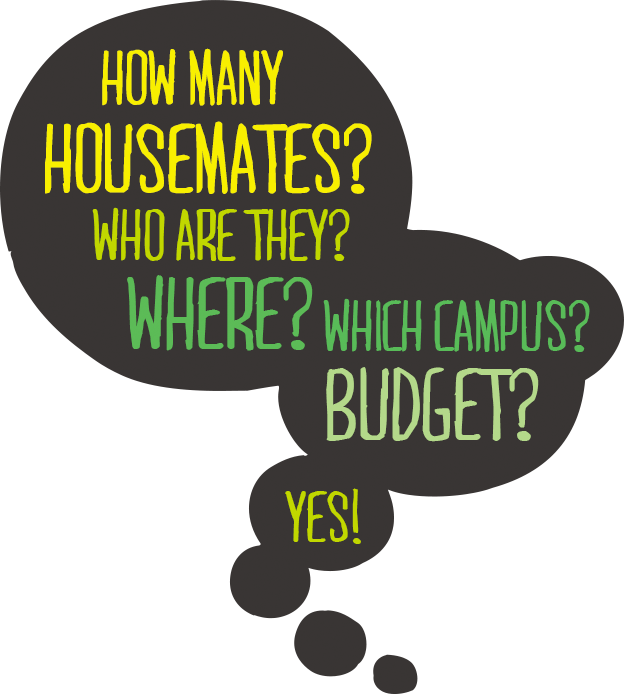 Sheffield's Finest Student Housing
We offer far more than just great quality student housing. Whether you're looking for a house, a studio or a luxury city centre apartment, we have over 300 student properties in the very best locations in Sheffield, including the City Centre, Sheffield Hallam, Shoreham Street, London Road, Edmund Road, Ecclesall Road, Broomhall, Crookes and more.
We have student accomodation to suit every budget and group size form Studios to 9 bedroom houses, managed by our team of experts. We are always happy to assist in your property search, give us a call or book your viewings online. We will even drive you between properties in our 7 seater Fit Property vehicle.
Modern Properties, Great Locations, Bills Included
We offer bills inclusive options in many of our student properties, including super-fast broadband, so you can enjoy your time living at uni, without the stress of paying your bills.
We are always taking on new, quality student properties from landlords who invest in keeping their properties modern, fresh and well maintained.
Location is key, whether you want to live in the heart of Sheffield or prefer the greener side of the city with easy access to the peak district, we have student properties across the city.
Always friendly, always willing to help.

I highly recommended using Fit Property as they have a wide selection of modern, spacious houses in the best Student areas!

Megan C., Student Lowfield
The Key Steps

Why Fit Property?
Sheffield's Local Experts

With a life time of local knowledge, from Henderson's Relish to Hunters Bar, this City of Steel is our life, our home and our business.

New Modern Properties

The very best student property in Sheffield, close to all the university campuses, from en-suites and pool tables, to spacious penthouse apartments and studios.

Personal Relationship

We understand that every situation is not the same. We offer a one-to-one service thats tailored to you. There are definitely no stereotypes.

Client Money Protect

Our tenant and Landlord funds have always been safe, held in our designated Client bank account.

For your further peace of mind we are pleased to inform you that our Client account is now protected by a Client Money Protection Insurance product.

Bills Included

Never argue with your housemates over utility bills again and take out the hassle of dealing with suppliers. It's easy, it's simple and ready to go.

Termly Payments

Although we ask for a rent payment where your tenancy starts during the summer, we take the remainder of your rent payments to coincide with your student loan dates which makes managing your cash easier.
Frequently Asked Questions
Common questions and answers about our student property lettings and maintenance services in Sheffield.
1

How long will the repair take? Show the answer to this FAQ

We aim to resolve all maintenance issues as soon as possible. If for any reason a maintenance issue takes longer to resolve, one of our team will update you and your housemates.

2

How do I report maintenance? Show the answer to this FAQ

We kindly ask that all maintenance issues are reported via our "Property app" this will be discussed at your move in appointment. Alternatively, we ask that you email your designated propety manager with the details of the repair. If your maintenance issue is an emergency please call the office on 0114 2725773. If the emergency occurs out of office hours please visit www.fitproperty.com/emergency for more information.
1

Do I have to move in on the day my tenancy starts? Show the answer to this FAQ

No, you can move in on any day after the start date on your tenancy agreement. Subject to availability of move in appointments.

2

What happens at the move in appointment? Show the answer to this FAQ

There are a few documents we will need you to sign, including a full inventory for the property and you will be issued with the keys and a move in pack.

3

How do I get my keys? Show the answer to this FAQ

If you are moving into a property managed by Fit Property, you will need to book a move in appointment by calling the office on 0114 212 5773. The move in appointment will take place at the Fit Property office and we ask that at least 2 of your group attend. If you are moving into a property that your landlord manages, their contact details will be provided for you to contact them direct and arrange key collection.
Still have a question?
Call us: 0114 272 5773
What Our Students Say About Us
With access to hundreds of properties, not only do we offer excellent choice, we also pride ourselves on our personal approach and exceptional service.
I wouldn't go anywhere else.

The staff are excellent. Not only have they provided us with a great property, I feel as though I have made lifelong friends. Amazing service all round.

Aarron C., Student Broomhall

I've been with Fit Property for 2 years.

Their rents are very reasonable unlike some companies around the city centre and they always make sure that rent payments align with loan payments.

Charlotte C., Student Heeley

Extremely helpful and accommodating.

They have a great variety of properties, contrasting from bargain houses to super luxury student accommodation. The office is very welcoming!

Toby F., Student Lowfield